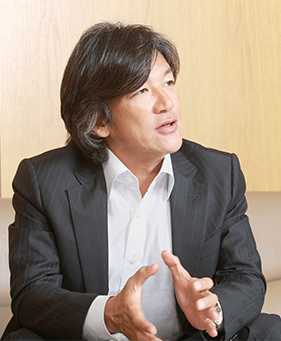 President & CEO
Takahiro Kuwayama

Brilliance Comes To Life
The relationship between human beings and jewellery has a long history, which goes back more than 6,000 years. All that while, jewellery has been adding vivid color to people's lives, sometimes by enriching our hearts and everyday lives, and at other times as symbols of precious memories and irreplaceable bonds.
Ever since its founding in 1964, while placing the first priority on trust from customers, we at Kuwayama have been engaging in planning and manufacturing of jewellery products under our credo "Brilliance Comes to Life". Spanning more than 5 decades in the business, we have expanded our markets from gold and platinum chain necklaces to fashion jewellery and fine jewellery. Meanwhile, we have also ventured into the realm of jewellery materials such as diamonds and pearls. In terms of production technology, through R&D on the 3D technology and high precision machining, Kuwayama pursues fusion of advanced technologies and sophisticated craftsmanship to create pieces of jewelry that transmit a human touch. As a result, not only domestically but also in overseas markets, Kuwayama has been receiving high recognition and evaluation for its product design and quality, and more, making us a proud representative of the Japanese jewellery manufacturing industry.
Heading for the next generations under our motto "Quality First", we at Kuwayama are working on our day-to-day business activities based on the principle of integrity and sincerity, to be a world-class jewellery manufacturer trusted by even more people. I would like all of you to watch for further actions and growth of Kuwayama Group.