Beyond satisfaction,
we deliver excitement and inspiration to customers.
Kuwayama has been leading the jewellery industry since its foundation and now maintains the top market share in jewellery manufacturing in Japan. Kuwayama is a general jewellery manufacturer engaging in a wide spectrum of business operations, ranging from manufacturing of products including jewellery chains, CNC rings, cast products and specially-designed chains, to supply of jewellery materials such as pearls and diamonds.
In addition to Kuwayama's original products, Kuwayama also manufactures ODM/OEM products for a number of jewellery brands both domestic and overseas, by utilizing its unique technologies and global production system.
Through its fully integrated business operations from planning & design, manufacturing, to marketing & sales, Kuwayama always pursues "Kuwayama quality" to provide solid values that meet customers' expectations.
Kuwayama Quality
Considering not only product quality but also planning & proposal ability and responsiveness in sales & marketing as "quality" of its corporate activities, Kuwayama always strives to enhance the overall quality of its business - that is the way of "Kuwayama quality". Under the slogan of "Quality First" that places emphasis on improvement of quality of day-to-day business operations, Kuwayama will respond to customers' trust.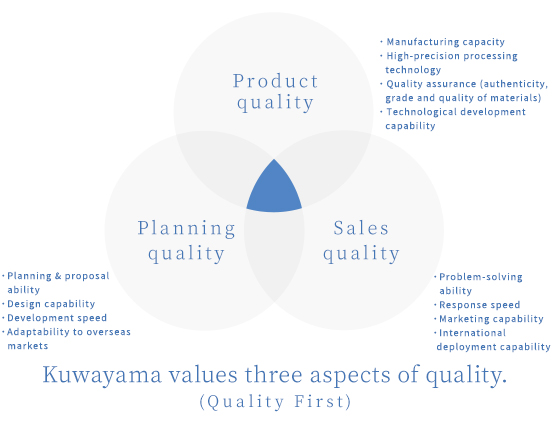 Strengths as a general jewellery manufacturer
As a general jewellery manufacturer, Kuwayama manufactures diverse kinds of jewellery products while also supplying raw materials. By effectively utilizing its integrated production system at four factories in Japan and overseas and its global capability for procurement of raw materials, Kuwayama provides stable manufacturing capacity and reliable high quality.
In addition, Kuwayama is able to demonstrates its comprehensive solution capability by providing integrated services to customers, covering multiple processes from proposals of planning & design, manufacturing, sales support, to after-sales service, which in ODM/OEM will enable customers to ensure consistency in the brand image and quality of their precious products.